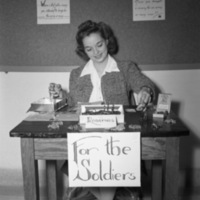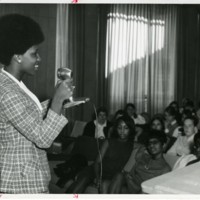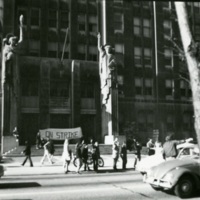 May 1970 witnessed a Mundelein College unlike any other. From students picketing down Sheridan Road to demands for better funding of Black student organizations, campus-wide debates to dorm room arguments, the Antiwar and Civil Rights Movements of the late 1960s exploded onto the Chicago campus.
Mundelein College, a Catholic all-women's school in North Chicago, was no stranger to student activism. In the 1940s, co-eds baked pies for GI soldiers. In the 1950s, Young Republicans started campaigning. And in the 1960s, students revolutionized their curriculum to allow for more self-directed study. In many ways, civic engagement at Mundelein College mirrored the same student protest happening in universities across the United States. On the other hand, Mundeleinites expressed their social vision in ways undoubtedly shaped by their education at a women's Catholic college.
This exhibit traces the history of student activism at Mundelein College from the 1940s through the early 1970s. In particular, the exhibit shows the ways in which students took part in the Antiwar and Civil Rights Movements, which eventually came to a head in May 1970. This exhibit Activist Mundelein explores the history of civic engagement through a collection of audiovisual materials, most significantly the Mundelein College Oral History Project. Other sources, including newspapers and photographs, strengthen the exhibit's main arguments. The exhibit includes four sections: Activist Mundelein, 'We started in '68,' Antiwar Mundelein, and May 1970.
Mundelein College, founded in 1930 by the Sisters of Charity of the Blessed Virgin Mary (BVMs), affiliated with Loyola University Chicago in 1991, at which time it stood as the last all-women's college in Illinois. Click here for a time line of Mundelein's history.

Credits
Created by Anne E. Cullen and William Ippen for the Women and Leadership Archives. Thanks for support and additional assistance goes to Kristin Emery, Kimberly Connelly Hicks, Kahlee Leingang, Briana Martin, and Laura Pearce. Major funding for Activist Mundelein provided by grants from the Illinois State Historic Records Advisory Board and the Sisters of Charity of the Blessed Virgin Mary.