Browse Exhibits (2 total)
This timeline of Loyola University of Chicago history is based upon "Loyola University of Chicago: The First 110 Years" by Robert C. Hartnett, S.J., and Richard M. Menges; "One Hundred Years of Knowledge in the Service of Man"; "Highlights of the Development of Loyola University of Chicago, 1870-1977" by Robert C. Hartnett, S.J.; "Chronology of Loyola University of Chicago"; and "Loyola at 70" and an unpublished manuscript history of Loyola University by Joseph Roubik, S.J.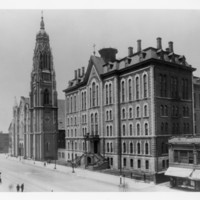 As with any institution over time, the spirit of a place - its buildings, people, and community - moves traditions to unfold. A simple action evolves into a rite of passage or an annual event; a particular spot becomes a gathering place for friends long after their student days are past. Loyola's traditions have been shaped by thousands of students, faculty, staff, alumni, and friends who have passed through its doors since 1870 and reflect our unique Jesuit character. On these pages we invite you to learn more about the history, traditions, and customs that are Loyola University Chicago.
If you would like to suggest a tradition or custom that you remember from your time at Loyola, please contact Kathy Young, University Archivist, at kyoung3@luc.edu or Nicole LeDuc Meehan, Director of the Alumni Association, at nleduc@luc.edu, 312-915-7660.